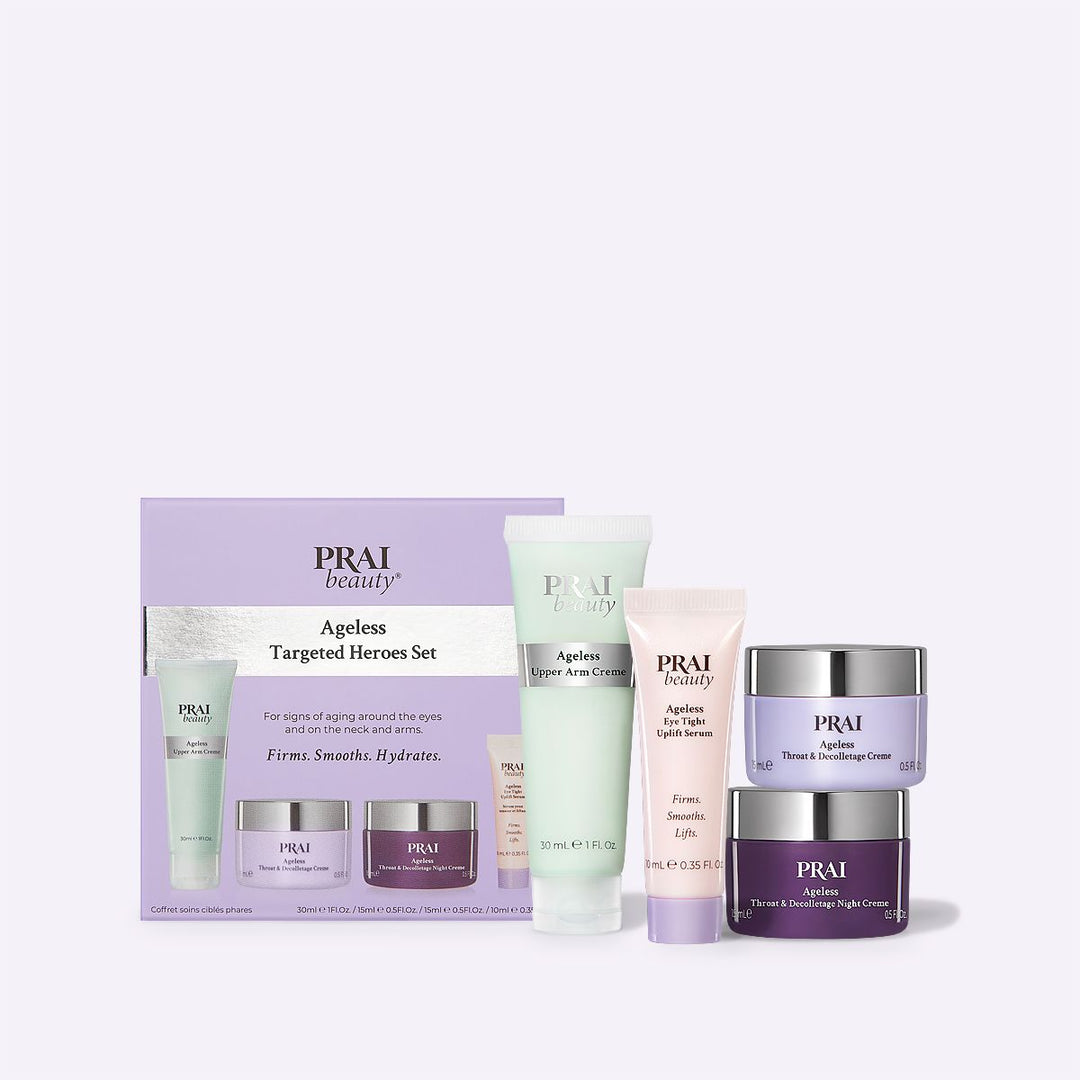 PRAI Beauty Ageless Targeted Heroes Set
Regular price
$82.21
Sale price
$53.44
/
Unlock complete confidence with our Ageless essentials for glowing skin! Designed to target the areas that reveal age the most: the eyes, neck and arms, these bestsellers use ingredients like revolutionary Idealift™ technology, hyaluronic acid, retinol and caffeine to help firm, lift, tighten and brighten your skin fast!

Why you'll love this: 
- Idealift™ to help lift skin and improve elasticity
- Hyaluronic acid to help plump and fill in wrinkles
- Retinol to ignite cell turnover and help boost collagen
- Caffeine to help tighten and firm skin, plus reduce redness
Set includes:
- Ageless Upper Arm Creme, 1oz/30ml
- Ageless Throat & Decolletage Creme, 0.5oz/15ml
- Ageless Throat & Decolletage Night Creme, 0.5oz/15ml
- Ageless Eye tight Uplift Serum, 0.35oz/10ml
How To Use:
Begin your Ageless routine by gently smoothing Ageless Eye Tight Uplift Serum across clean skin underneath the brows, then gently push the brow upwards as the serum dries, to help create a lifting effect. Next, apply a pea-sized amount of Ageless Throat & Decolletage Creme in smooth upward strokes from cleavage to chin. Swap in Ageless Throat & Decolletage Night Creme in the evening using the same method. Finish by massaging Ageless Upper Arm Creme into upper arms using circular motions until the product is fully absorbed.
Ingredients:
See individual products.