The Ultimate PM Pampering Routine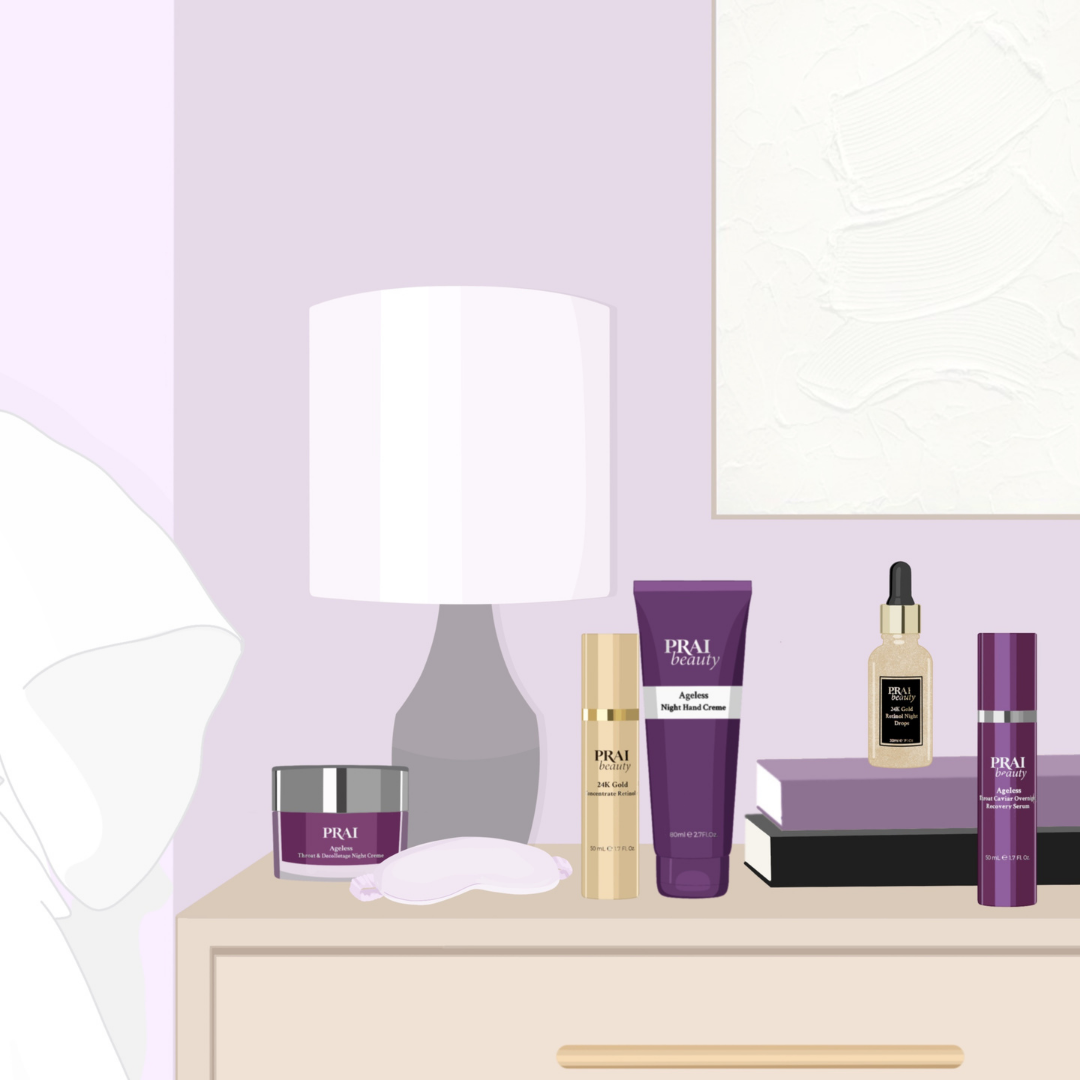 Think beauty sleep is a myth? Think again! The peak time for skin cell renewal is between 11 pm and 12 pm. Sleep helps boost blood flow and circulation, optimize collagen and reverse damage caused by sun exposure - all essential for healthy, glowing skin. Feel like hopping into bed yet?
While getting enough sleep is critical for skin health, you should also care for your skin with products that include antioxidants and potent actives to lock in moisture, speed up cell turnover and prevent premature signs of aging.
We've rounded up the ultimate pm pampering routine, designed to tackle the three areas that reveal age the most: the face, neck, and hands. Read on to learn how to turn back time while catching some zzzs.
FACE
Step 1:
24K Gold Concentrate Retinol+
The best thing you can do to smooth, brighten and plump your skin is incorporate a retinol serum into your routine. Our 24K Gold Concentrate Retinol+ harnesses the power of 24K Gold plus a gentle encapsulated retinol to speed up cell turnover overnight, revealing healthier-looking skin. Apply to a clean face avoiding contact with your eyes.
Step 2:
24K Gold Retinol Night Drops
Want an extra beauty boost? Gently pat our nourishing elixir of rosehip, avocado, and pomegranate seed oils spiked with gentle retinol to hydrate and repair thirsty skin.
NECK
Step 1:
Ageless Throat Caviar Overnight Recovery Serum
Rejuvenation starts with a great serum. Show your neck and decolletage a little TLC with this do-it-all serum with ceramides, squalane, hyaluronic acid, and our proprietary PRAI oil. Massage onto cleansed skin using gentle upward strokes before bed.
Step 2:
Ageless Throat & Decolletage Night Creme
Next, lock in moisture with our award-winning night neck creme. Powered by squalane, shea butter, and a gentle encapsulated retinol, this dream creme helps smooth deep-set cleavage creases, brighten sunspots and restore your glow.
HANDS:
Step 1:
Ageless Night Hand Creme
The hands are one of the most neglected areas in skincare! Treat dry hands to a rich overnight treatment that smooths, plumps, and brightens age spots by morning. Massage into your hands, cuticles, and nails, and wake up to the difference!
With this quick and comprehensive bedtime routine, you can be sure you're getting the most out of your beauty sleep. Give it seven sleeps and we promise you'll be on your way to the skin of your dreams.
---