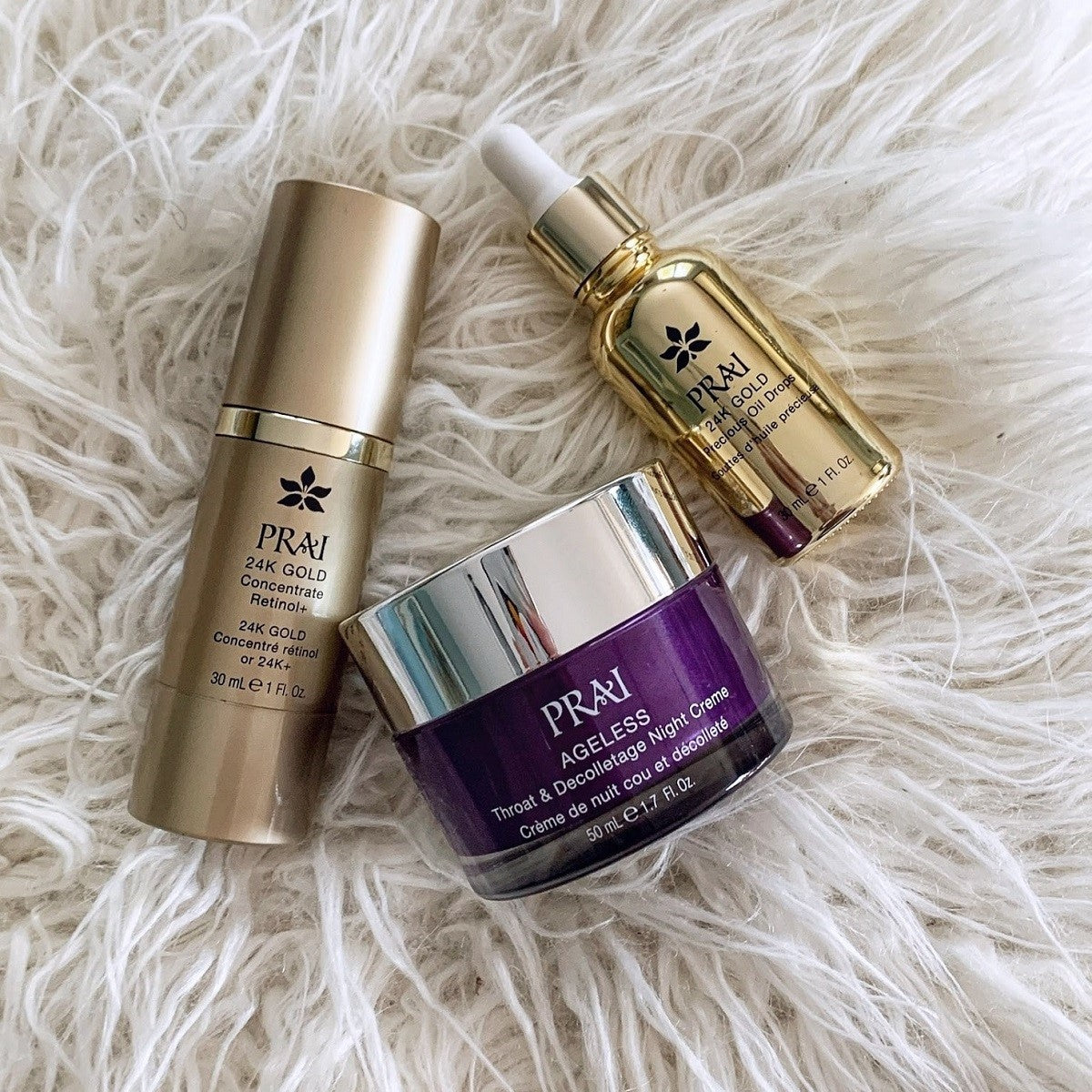 Is your skin looking dull after a summer in the sun? You're not alone!  We're here to help you fall back in love with your skin! As we transition into a new season, it's important to reassess your skincare routine to make sure you're using the right products to unlock your inner glow. These 5 tips will have you looking fresh-faced for fall in no time! 
1. Gently cleanse & tone 
Start with a clean slate! Since temperatures are cooler, you'll want to choose a gentle cleanser that will effectively remove makeup and pollutants without stripping your skin of its natural oils. We recommend our Platinum Cold Creme Cleanser for its unique emollient-infused water and oil-based formula that dissolves longer wearing foundation and lipstick with ease while leaving your skin calm and moisturized. Next, follow up with an exfoliating toner like our new Ageless Triple Action Radiance Tonic all the way from your cleavage to hairline to clarify, brighten, and prep the skin for further treatments. 
2. Restart your retinol serum 
With warmer days behind us, you can enjoy maximum results from retinol without being worried about irritation from sun exposure. Fall is the perfect time to reintroduce retinol into your routine to boost collagen production, speed up cell turnover, and promote radiance. Our 24K Gold Concentrate Retinol+ harnesses the power of encapsulated retinol and real 24K Gold to gently smooth and repair your skin while you sleep. 
3. Opt for a thicker moisturizer 
As temperatures drop, you'll want to keep your skin primed and protected. Switch out light hydrating serums for a decadent day creme. Packed with antioxidants and precious PRAI oil, Platinum Firm & Lift Creme delivers long-lasting hydration while firming and lifting sagging skin. For maximum results, follow with Platinum Firm & Lift Night Creme  before bed to lock in moisture all night long.  
4. Use a night creme on the neck & decolletage 
One too many days at the beach can show up first on your chest! Lighten sun spots and discoloration, smooth wrinkles, and rejuvenate your skin with Ageless Throat & Decolletage Night Creme. Powered by retinol and hyaluronic acid, our clinically-proven night creme maximizes the body's overnight repair process for younger-looking skin by morning! 
5. Add a facial oil for optimal hydration 
If you're still struggling with dry, dull skin, try incorporating a facial oil as the last step in your routine. Warm a nourishing oil like 24K Gold Precious Oil Drops in the palms of your hands and gently press into your skin until fully absorbed. This indulgent elixir features pure 24K Gold and a botanical blend of Bulgarian rose and chamomile for a lit-from-within glow. Did we mention it's one of our founder, Cathy's favorite products too? 
We hope you feel ready to tackle the new season and put your best face forward. Still not sure what products are right for your skin? Drop us a note below and we'd be happy to help! 
---