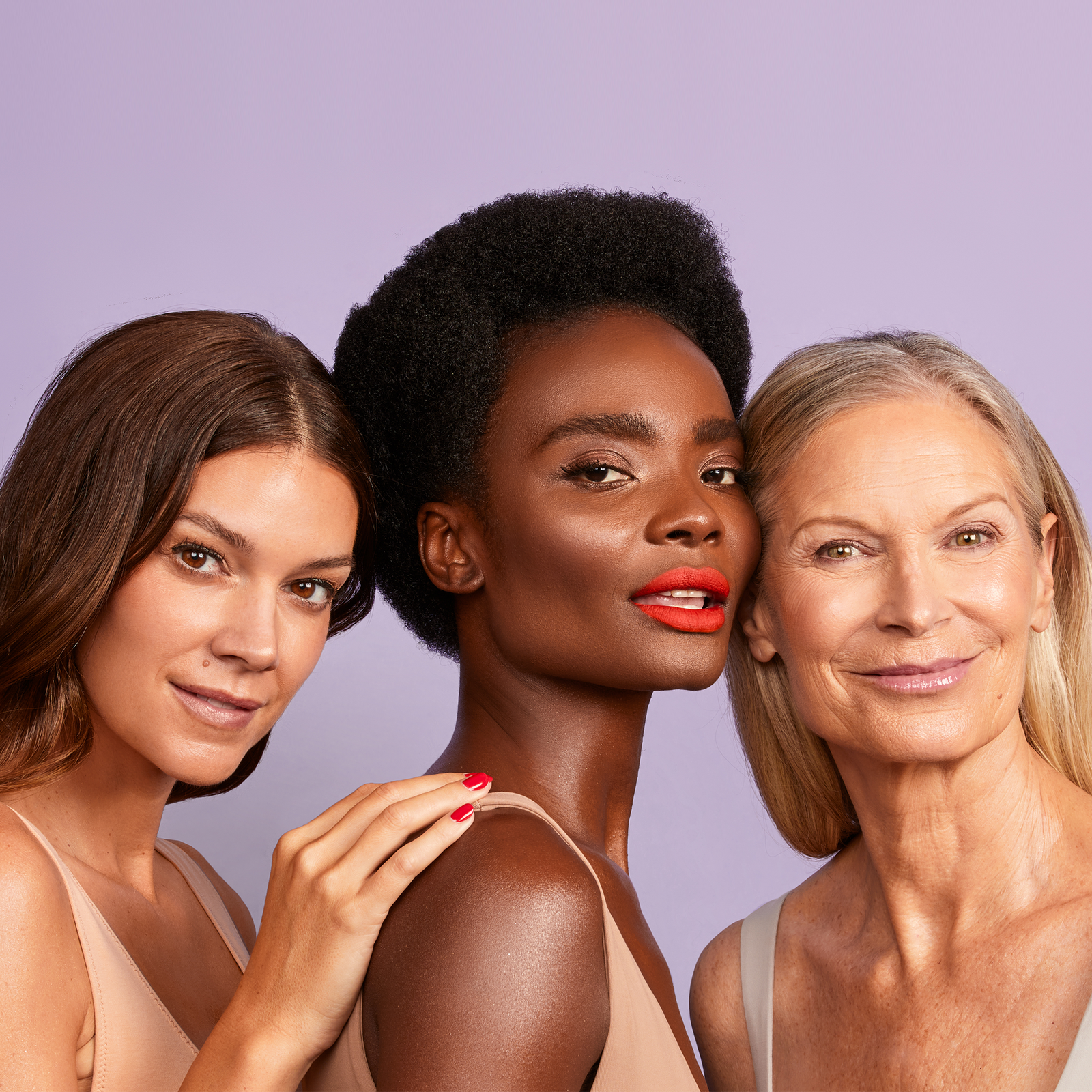 At PRAI Beauty, we believe the perfect age is now. We're not trying to turn back the clock or become something we're not. We just want to look and feel the best we can. That's why we're sharing our top 5 tips for aging gracefully, so you can have confidence in your skin at every stage of life.
1. Use a neck creme 
As leaders in the neck care category, it's no surprise that our #1 tip for aging well is to use a targeted neck creme like our Ageless Throat & Decolletage Creme. The neck is often the most forgotten area in skincare, even though it's always on display. The skin on your neck and decolletage is also thinner than the skin on your face and contains fewer oil glands, which means it's more susceptible to showing signs of aging like fine lines, wrinkles, and deep-set creases. With the repetitive motion of looking down at technology daily, this area can age up to 20x faster than your face! We could go on forever about the importance of caring for your neck (we are the Neck-Xperts, after all!), so check out our blog post, 3 Reasons Why You Need a Neck Creme, to learn more! Remember, it's never too early or too late to begin caring for your neck. Our Ageless Throat & Decolletage Creme delivers results fast, with visible results in 7 days or your money back.
We recommend: Ageless Throat & Decolletage Creme 
2. Exfoliate regularly 
Want your skincare to work harder? It's time to exfoliate! Use a daily liquid exfoliant like our Ageless Triple Action Radiance Tonic that contains a gentle yet effective combination of Lactic and Salicylic Acid. By exfoliating regularly, you're not only helping to remove dead skin cells, but you're also allowing your skin to absorb the active ingredients that deliver incredible results. Our Ageless Triple Action Radiance Tonic also includes hydrating ingredients like aloe vera and glycerin to hydrate and calm skin, plus Instensyl to tighten and lift. Every skin type can benefit from regular exfoliation, especially those prone to large pores, dull skin, and rough texture. With a gently daily exfoliant in your routine, you can be sure that you're setting yourself up for glowing skin for years to come! 
We recommend: Ageless Triple Action Radiance Tonic
3. Incorporate antioxidants 
Antioxidants play a critical role in the way we age. Think of them as your best defense against tell-tale signs of aging like sunspots, wrinkles, and loss of elasticity. Antioxidants help protect the skin from oxidative damage caused by free radicals and environmental aggressors like UV and pollution. Our 24K Gold Wrinkle Repair Serum contains Vitamin C for antioxidant protection, real 24K Gold to reduce inflammation and boost luminosity, and hyaluronic acid to bind water to the skin for maximum hydration. It's proven to increase skin firmness and elasticity by up to 61% making it our #1 bestselling serum for daily antioxidant protection and hydration. We like to call it our "golden ticket" to youthful-looking skin!
We recommend: 24K Gold Wrinkle Repair Serum 
4. Consistently use retinol 
Retinol is the #1 proven ingredient to smooth existing wrinkles and prevent new ones from forming. This superstar ingredient works to speed up skin cell turnover and stimulate collagen production to repair your skin on a deep level. We recommend using retinol products only at night because it can make your skin more sensitive to the sun. That's why we created Ageless Throat & Decolletage Night Creme, a twist on our hero Ageless Throat & Decolletage Creme with added retinol, designed solely for PM pampering. With this retinol-powered night creme in your rotation, you can be sure you're getting the most out of your beauty sleep. It's chock-full of hydrating heroes like hyaluronic acid, shea butter, squalane, and our proprietary Prai oil. Plus, it contains our unique Sepilift™ technology proven to firm and tighten skin. Want to smooth expression lines on your face? Our 24K Gold Concentrate Retinol+ is your go-to smoothing serum for treating wrinkles and improving radiance.
We recommend: Ageless Throat & Decolletage Night Creme & 24K Gold Concentrate Retinol+
5. Don't neglect the skin on your body 
Our final tip to radiant skin at any age is to pay attention to the skin on your body. We believe skincare shouldn't stop at your face, which is why we developed a targeted range of products designed to target the areas that can reveal age the most, including the neck, arms, and hands. Today our Ageless Collection remains our bestselling line, devoted to addressing unique concerns like vertical lip lines, drooping eyelids, crepey skin on your hands, and loss of firmness underneath your arms. Show these forgotten areas a little love - you'll be amazed at the difference in how you look and feel! Our Ageless products are formulated with the best clinically-proven ingredients and designed for all skin types, tones, and ages, to boost your glow from head-to-toe. 
We recommend: Ageless Upper Arm Creme & Ageless Hand Creme.  
---
---