PRAI Beauty Eye Essentials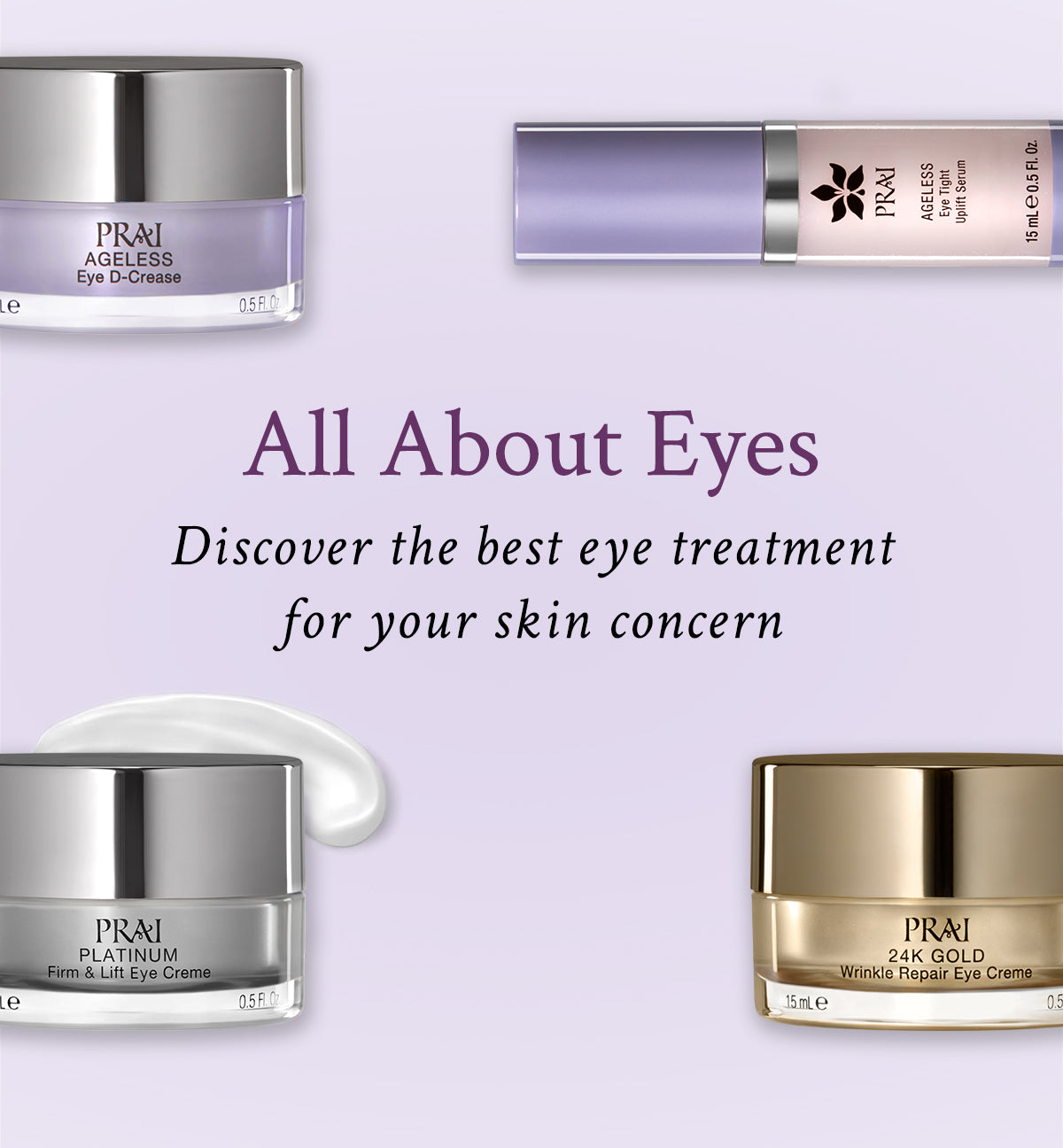 Keep your eyes on the prize! Did you know it's never too early or late to start using an eye treatment? Plus, it's one of the easiest steps to incorporate into your skincare routine to restore youth and get your "sparkle" back! 
Because the skin around the eyes is thinner and contains less fat and muscle, your eyes experience aging faster than any other area on your face. Plus, we understand that everyone ages differently. That's why we've developed a comprehensive range of eye care designed to tackle every sign of aging. Whether you're dealing with dark circles, puffiness, fine line, wrinkles or all of the above, we have a targeted eye treatment to address your skin concern. 
Ageless Eye D-Crease instantly soothes, hydrates, de-puffs and brightens for more youthful looking eyes. Packed with clinically-proven Matrixyl® and a Vitamin A-rich blend of avocado and marula oils, you'll see results in just 7 days. 
Ageless Eye Tight Uplift Serum delivers an instant out-of-office brow lift! Powered by our revolutionary Idealift™ and Nulastic™ Silk to lift, tighten and enhance the skin's structural support system. This fast-acting serum will become your go-to for wider, brighter, more-awake looking eyes. 
24K Gold Wrinkle Repair Eye Creme relies on real 24K Gold and anti-aging heroes hyaluronic acid and vitamins C&E to smooth, plump and nourish tired-looking eyes prone to fine lines & wrinkles. 
Platinum Firm & Lift Eye Creme is an excellent choice for mature skin types struggling with loss of elasticity. Real Platinum fights against free radicals and environmental aggressors while SYN-COLL™ boosts collagen production and firms sagging skin. 
Not sure about which eye treatment is right for you? Schedule a complimentary skincare consultation with a member of our team: customercare@praibeauty.com
---